MELBOURNE, Vic. Australia, 2022.Feb.25 – The HQ-Box2 is an Intel® Xeon D-1700-based compact Box PC server for the Network and 5G Edge. Highly modular by design, the HQ-Box2 allows 'mix and match' features for a wide array of application in harsh environments.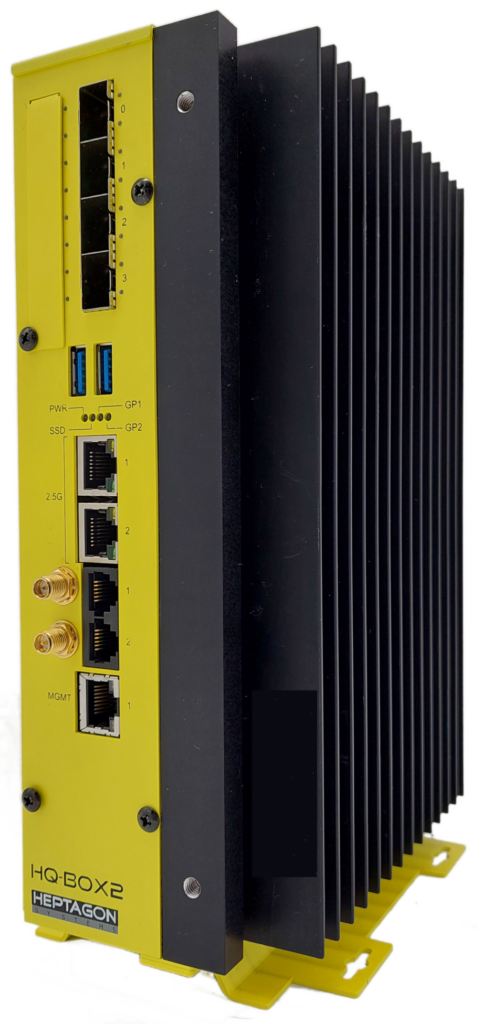 The HQ-Box2 offers 8 Ethernet channels with up to 100Gb Ethernet throughput, combined with integrated accelerators such as Intel® QAT and inline IPSEC.
The HQ-Box enclosure can host PCIe Gen-4 add-on PCIe cards, Quad U.3 SSD array and much more. More information
Availability: The HQ-Box2 GA is due by Q3/22, with limited quantities available from June/2022.
About Heptagon Systems
Founded in 2015 Heptagon Systems is an Australian company located in Melbourne, Victoria. We have vast experience in designing embedded PC products meeting the ever-growing need for rugged PCs operating in harsh environments. Our products are used in a variety of industries and applications, such as IOT, Edge computing, Medical instrumentation, Transportation, and Industrial Automation. With a highly skilled R&D team, Heptagon Systems masters all the aspects of product development from concept to mass production. All of our products go through a rigorous testing procedure before being brought to market. We offer customization and ODM options. We are actively licensing intellectual property (IP) to clients who wish to integrate our products into their own.
Media Contact: info@heptagonsystems.com