Built for the Edge / Built for the network
Heptagon Systems HQ-Box2 is a series of rugged fanless servers in a state-of-the-art compact Box-PC enclosure.
Based on the Intel® Xeon® D-1700 LCC SOC, 4..10-core, the HQ-Box2 offers 384GB DDR4-ECC memory and an integrated 10/25/50Gb Ethernet controller with up to 8 ports. Built for Networking and Edge computing, the Intel SOC offers scalability and a rich feature set to address key requirements, while providing a new level of compute power to support any Edge/Network application.
With flexibility and customization in mind, the HQ-Box2 offers multiple configuration options to accommodate for a variety of use cases. Additional custom-configured modifications can be easily created with a short turnaround time.
The HQ-Box2 feature set is optimized towards dense compute and connectivity resources using integrated accelerators such as Intel® QuickAssist Technology (QAT) and Inline IPSec. Real-Time Features TSN (Time Sensitive Networking) and Intel® TCC (Time Coordinated Computing) are supported.
Typical applications can be found in 5G Edge infrastructure, rural, mmWave, telco mid-band 32T32R, cloud RAN and many more.
Intel® Xeon® D-1700 CPU, 4-10 cores, 35-71W
Up to 384GB DDR4 with ECC
2x M.2 SSD slots, 2x M.2 slots for 5G w/SIM and Wi-Fi
8x 10G SFP+ (or 25G, 40G, 50G) + 2x 2.5GbE + 1x GbE
16-lane PCIe Gen 4 + 8-lane PCIe Gen 3
Fanless and Maintenance free
-30°C..+60°C operating temperature range
Aspeed AST2600 BMC with Display Port video
Plenty of storage and PCIe slot configuration options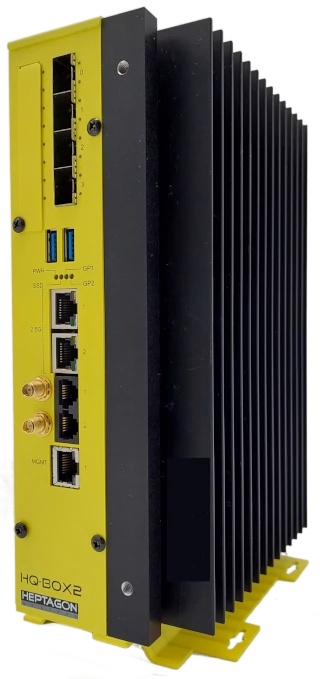 HQ-Box2 Model selection
Model
PCIe G4
Slot
PCIe G3
Slot
M.2 SSD
U.3*
2.5″ Bay
2.5G / GbE
SFP+
BMC
Wi-Fi / 5G
Bare
–
–
1x NVMe G3
1x SATA
–
2/1
4+4
AST2600
M.2-B
W.Sim
M.2-E
2X
1
1
1x NVMe G3
1x SATA
–
2/1
4+4
AST2600
M.2-B
W.Sim
M.2-E
Storage-M
/ M6
–
–
4x NVMe G4
1x NVMe G3
1x SATA
M6: +2x NVMe G3
–
2/1
4+4
AST2600
M.2-B
W.Sim
M.2-E
Combo
–
1
1x NVMe G3
1x SATA
4x U.3
hot-swap
2/1
4+4
AST2600
M.2-B
W.Sim
M.2-E
* 2.5″ U3 drives are PCIe Gen 4, supporting 15mm/17mm thick drives.